Blog
Ghost Blogging Platform: An Honest Review for 2023
Here's my honest review of Ghost, the blogging platform I used to build KeanenBuckley.com and the one any creator should consider for their business.
Are you looking for a reliable, user-friendly platform to start your online business or blog? The Ghost blogging platform is the perfect solution. This comprehensive review of Ghost will cover its features, pricing, pros and cons, and compare it to other platforms like WordPress.
I'll also discuss my personal experience launching KeanenBuckley.com on Ghost and share why this popular content management system (CMS) has gained so much traction among solopreneurs who want an easy way to manage their digital presence. Read on if you're ready to discover why so many creators have made the switch from traditional CMS's to Ghost.
Ghost Blogging Platform
Ghost is my favourite CMS for digital creators, such as bloggers, YouTubers, educators, coaches, and artists.
Pros:
- User-friendly editor
- Flexible design options
- Secure hosting platform
- Affordable pricing plans
- Great site speed and overall performance
Cons:
- Web development savviness needed for customization
- Lacks blogging-specific integrations
Try Ghost for Free
✔️
Disclosure: Some of the links in this article may be affiliate links, which can provide compensation to me (at no extra cost to you) if you purchase a paid plan. You can read our affiliate disclosure in our privacy policy.
What is Ghost (Blogging Platform)?
Ghost is an open-source publishing platform created by the Ghost Foundation. It allows users to create and manage their own blogs with ease, offering a range of features such as custom themes, optimization, analytics tools, and secure hosting for content storage.
Who Created Ghost?
The team behind Ghost consists of former WordPress developers John O'Nolan and Hannah Wolfe who wanted to make blogging easier for everyone. The pair set out to create a simpler yet more powerful platform that would enable anyone to start a blog without having any technical knowledge or coding skills. They launched the first version of Ghost in 2013 and have since been continuously improving it ever since.
Top Benefits of Ghost
Customizable Themes: With over 100+ free themes available on the official website plus many more from third-party developers, you can easily customize your blog's look and feel with just a few clicks. Explore Ghost themes.
Search Engine Optimization (SEO): Ghost SEO is great out of the box, so your blog posts will be naturally optimized for search engine rankings.
Built-In Newsletter Functionality: Ghost allows creators to publish by web (blog) and newsletter. Ghost websites are set up to capture email addresses and store them for future content releases, which can be delivered to segmented audiences.
Membership Management: Ghost also comes with membership site capabilities out of the box. This allows creators to monetize their content through subscriptions.
Integrations: Ghost has a collection of integrations, so odds are it's going to connect with your other tools. You can also access advanced features like membership subscriptions or eCommerce stores via plugins developed by third-party developers within the community marketplace.
Ghost is a powerful tool that enables content creators, solopreneurs, and small to medium-sized businesses to create and monetize their content with ease. Now let's explore the best features of Ghost.
Who is Ghost Best For?
Ghost positions itself as "The Creator Economy Platform", and rightfully so. It's giving all kinds of people a way to publish content that they can own. Here are the most common users:
Creators: YouTubers, bloggers, podcasters, and artists are all turning to Ghost to share their work and grow their communities.
Publishers: Ghost has the power to be the foundation of an entire media business, which is why it's a great fit for journalists and other independent publishers.
Businesses: Content marketing is better with Ghost. The built-in SEO tools remove the need for clunky plugins and the modern Node.js back end gives you a lightning-quick web stack.
Key Takeaway: With its powerful features and user-friendly interface, Ghost is the perfect choice for creators, publishers, and businesses to create a professional website and blog.
Best Features of Ghost
Ghost's unique features make it stand out from other tools. Here are some of my favourite ones:
Content Editor
The content editor in Ghost makes creating a blog post easy and intuitive with an array of formatting options available at your fingertips. Because it's a markdown text editor, it's a simple, fast, and efficient way to write. The editor also includes built-in SEO tools so you can ensure your blog post reaches as many people as possible.
Integrations
The integration with a variety of popular services and platforms, such as social media, email marketing tools, and analytics software, allows users to streamline their content creation and distribution process. This saves time and helps increase visibility and engagement. Additionally, Ghost's API and web hooks enable developers to build custom integrations and add new functionalities to the platform, further increasing its versatility and utility.
Membership System & Subscriptions
The membership system in Ghost gives users full control over who has access to what parts of their site, making it easier than ever before for creators and entrepreneurs alike who want total control over who sees what when visiting their online space. Additionally, memberships come with integrated subscriptions which give customers recurring payments each month instead of one-off payments, which is perfect if you're looking for long term income streams from your work.
Ghost Plans & Pricing
Ghost offers several pricing plans depending on the needs of the user. I personally recommend its hosted platform "Ghost(Pro)" as opposed to the self-hosted version.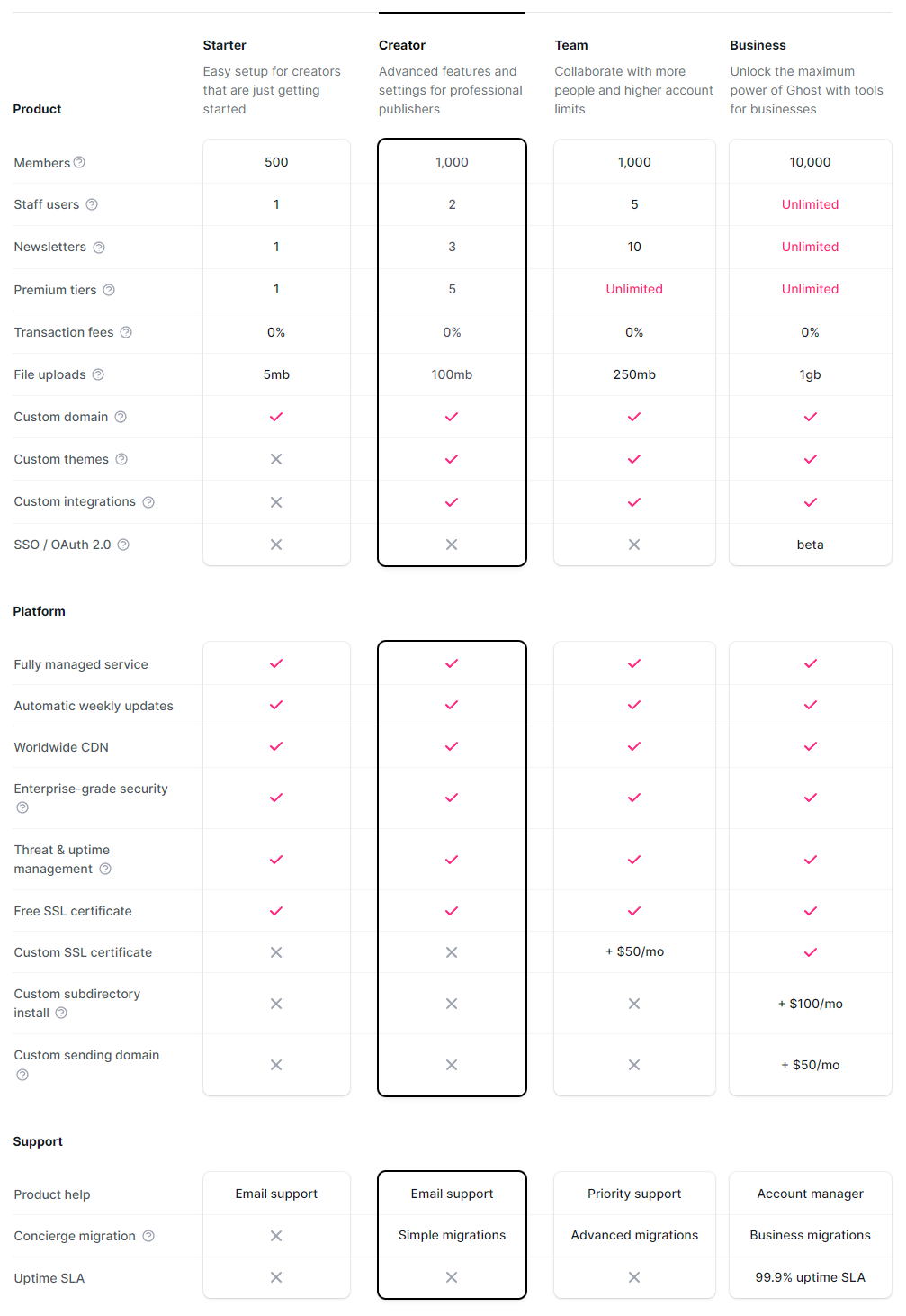 Starter: This plan is best for individuals and small businesses who are looking to start a simple blog or personal website on their own domain. The main drawback is being limited to official Ghost themes, but it provides a cost-effective solution for those who want to quickly launch a website with minimal upfront cost.
Creator: This is the plan I use, and I love it. It offers significantly more flexibility for building you site, primarily because of the access to custom themes and the 1,000+ Zapier integrations.
Team: The jump from the Creator plan isn't that significant here. Team subscribers do benefit from priority support and more users, making it a better fit for small teams that count on the newsletter and membership functionality.
Business: This is Ghost's enterprise-level plan that comes with a dedicated account manager and unlimited user seats. They also offer a 99.9% up-time service-level agreement (SLA) so you can have confidence your website will always be up.
If you're looking for a discount on Ghost's monthly subscription plans, you can pay upfront annually to receive up to 20% off. It's also worth noting that they offer a 14-day free trial so you can test out the service before committing long term. Lastly, Ghost's variable pricing model makes it a platform that grows with you. Your price will only go up if you reach certain thresholds of members in your community, meaning you aren't paying for features you aren't using until you actually need them.
Ghost Pros and Cons
Ghost Pros
Easy to Use: Ghost is a user-friendly platform with an intuitive dashboard and easy setup process. It's simple enough for beginners, but also has advanced features that experienced users can take advantage of.
Powerful Publishing Tools: Ghost offers powerful publishing tools like blog post scheduling, content tagging, SEO, social sharing, and more. This makes it easier to create great content quickly and efficiently without having to learn complicated coding languages or web design principles. You can just write, set your featured image, add your metadata, and hit publish!
Flexible Design Options: With its flexible themes and customizations options, you can easily create a unique website look that reflects your brand's personality and style. You can even use HTML/CSS if you want more control over the design elements of your site.
Secure Hosting Platform: Ghost provides secure hosting on its own servers so you don't have to worry about security issues or downtime when running your blog or website on their platform.
Affordable Pricing Plans: Ghost offers affordable pricing plans for both personal bloggers as well as businesses looking for an enterprise solution - starting at just $29 per month. This makes it accessible to everyone regardless of budget size or technical experience level needed to run a successful online presence today
Ghost Cons
Web Development: Ghost isn't a What-You-See-Is-What-You-Get (WYSIWYG) website builder like Wix or WordPress. Most of the themes you'll use won't require changes, but you may want to add or remove certain elements to make a particular theme work better for your use-case. In that case, you'll need to be comfortable downloading and editing your theme files. If you aren't comfortable doing this yourself, you can rest assured that many of the themes you buy come with six months of support from the developer. There's always the option to outsource simple web development tasks to a freelancer.
Blogging-Specific Integrations: WordPress has long been the go-to platform for bloggers and, because of this, countless plugins have been built specifically for bloggers. At times, Ghost may not feel like the best fit when you're building a more traditional blog that's built around doing product reviews and monetizing with affiliate links. I personally miss having tools like ThirstyAffiliates and Rank Math when creating a blog post, but I've ultimately figured out how to make do without them. It's possible that with further development in the Ghost ecosystem we'll see more blogging tools in the near future.
Ghost Alternatives
Ghost is an excellent blogging platform, but there are other alternatives out there worth exploring, namely WordPress and Medium.
WordPress
WordPress is another open source blogging platform and is the most widely used website builder in the world. It's free to use and can be easily customized with themes and plugins. WordPress also has an extensive library of support materials such as tutorials, forums, and documentation. This makes it ideal for those who want more control over their website design without having to learn coding or hire a web developer. However, it's easy to end up with "plugin soup", which is detrimental to your site's performance. The biggest improvement I've noticed in Ghost compared to WordPress is in the technical SEO, specifically around my site speed.
Medium
Medium is another popular blogging tool that's often compared to Ghost due to its similar focus on writing and publishing content quickly and easily (also via Markdown editor). The platform also provides readers with a distraction-free reading experience by removing ads from articles published on the site. Medium also has built-in analytics tools so writers can track how their content performs over time as well as access data about reader engagement levels. Where Medium falls short is customization, ownership, and monetization. While publishing on Medium may yield you more readers in the short term, you'll run into blockers down the line when it comes to monetization.
Key Takeaway: WordPress has a more comprehensive plugin library with many tools geared toward bloggers, which offers an easy set up experience and customization, but sacrifices speed and performance. Medium is the fastest path to readers, but monetization will become a challenge in the long run.
Frequently Asked Questions
Is Ghost blogging free?
Ghost is a free, open source platform. However, for it to be free, you need to be on the self-hosted version. I recommend the hosted version "Ghost(Pro)", which starts at $11 USD billed monthly.
Is Ghost good for blogging?
Yes, Ghost is a great platform for blogging. It offers an intuitive user interface that makes it easy to create a new blog post and manage existing ones.
How do I start a ghost blog?
Starting a blog on Ghost is relatively easy and straightforward. The first step is to sign up for an account. Once your account is created, Ghost as an entire workflow to guide you through the process. If you get stuck, their help centre and community forums are excellent resources.
Conclusion: Should You Buy Ghost?
With its powerful features, competitive pricing plans and wide range of integrations with other platforms, it's no wonder so many people are choosing to build their creator business on Ghost. Although there are some drawbacks compared to some of the alternatives, these can be easily overlooked in light of all the benefits that come with using this amazing tool. From my personal experience launching KeanenBuckley.com on Ghost, I can confidently say that it was one of the best decisions I've ever made when it comes to managing my online presence. If you're looking for an efficient way to get your business off the ground then I highly recommend giving Ghost a try.
✔️
Disclosure: Some of the links in this article may be affiliate links, which can provide compensation to me (at no extra cost to you) if you purchase a paid plan. You can read our affiliate disclosure in our privacy policy.
Written by