If you're considering Ghost as the platform for your blog, you might be in the market for a theme. And if you've been browsing a marketplace like Theme Forest, you'll know there are tons of Ghost themes to choose from. However, only a select few are a good fit for an SEO-focused blog or affiliate site. Choosing the right one is an important decision that shouldn't be taken lightly, so you're in the right place!
I've put together this guide to give you a shortlist of Ghost themes that will require the least amount of customizations so that you can get up and running as soon as possible. The list includes both free and premium themes, so there should be something for just about any budget. I also compiled a short list of reputable developers in the Ghost community who are consistently producing high-quality themes.
If that sounds good, keep on scrolling!
✔️
Disclosure: Some of the links in this article may be affiliate links, which can provide compensation to me (at no extra cost to you) if you purchase a paid plan. You can read our affiliate disclosure in our privacy policy.
What to look for in a Ghost blogging theme
When hunting for a Ghost theme for your blog, look for themes that come with multiple variations of page and post layouts. Also, do research on the features that come built-in, such as widgets, sidebars, a table of contents, and snippets.
Beyond the items listed above, always take note of the following:
Features: As mentioned above, you want your theme to come with as many features out of the box as possible. This will reduce the amount of customization needed.
Theme speed: Ensure the theme is fast and fully responsive. The main reason to choose Ghost over WordPress is for a less bloated setup, so make sure the theme developer shows speed tests.
Aesthetics: Choose a theme that not only fits your niche and audience, but one that you enjoy looking at. Keep in mind that you can easily customize colors and imagery.
Documentation: The theme you get should be well-documented so you can easily implement and take advantage of all its features.
Support: See what the developer includes with your installation. Are they available to answer any questions you might have? How long will you receive support?
Ghost websites aren't as easy to customize for the non-developers out there, especially compared to a what-you-see-is-what-you-get (WYSIWYG) builder. To make matters more difficult, a lot of Ghost themes are built to be for a newsletter, membership, or news site rather than an SEO blog. Don't let this scare you away though; you just need to find a theme that comes with important blogging features so you can save time and/or money on customizations.
What are the best premium Ghost themes?
Here are the best premium Ghost themes for blogs:
| | |
| --- | --- |
| Feature Set | ⭐⭐⭐⭐⭐ |
| Speed & Responsiveness | ⭐⭐⭐⭐⭐ |
| Design Aesthetics | ⭐⭐⭐⭐⭐ |
| Documentation & Support | ⭐⭐⭐⭐⭐ |
If $149 is in your budget, you won't regret investing in Rinne. This is one of two themes by Bright Themes that made my list. It's built to be a directory of tools and resources, which makes it an excellent fit for an affiliate site that reviews products and services. I currently use Rinne for the Creator Economics website.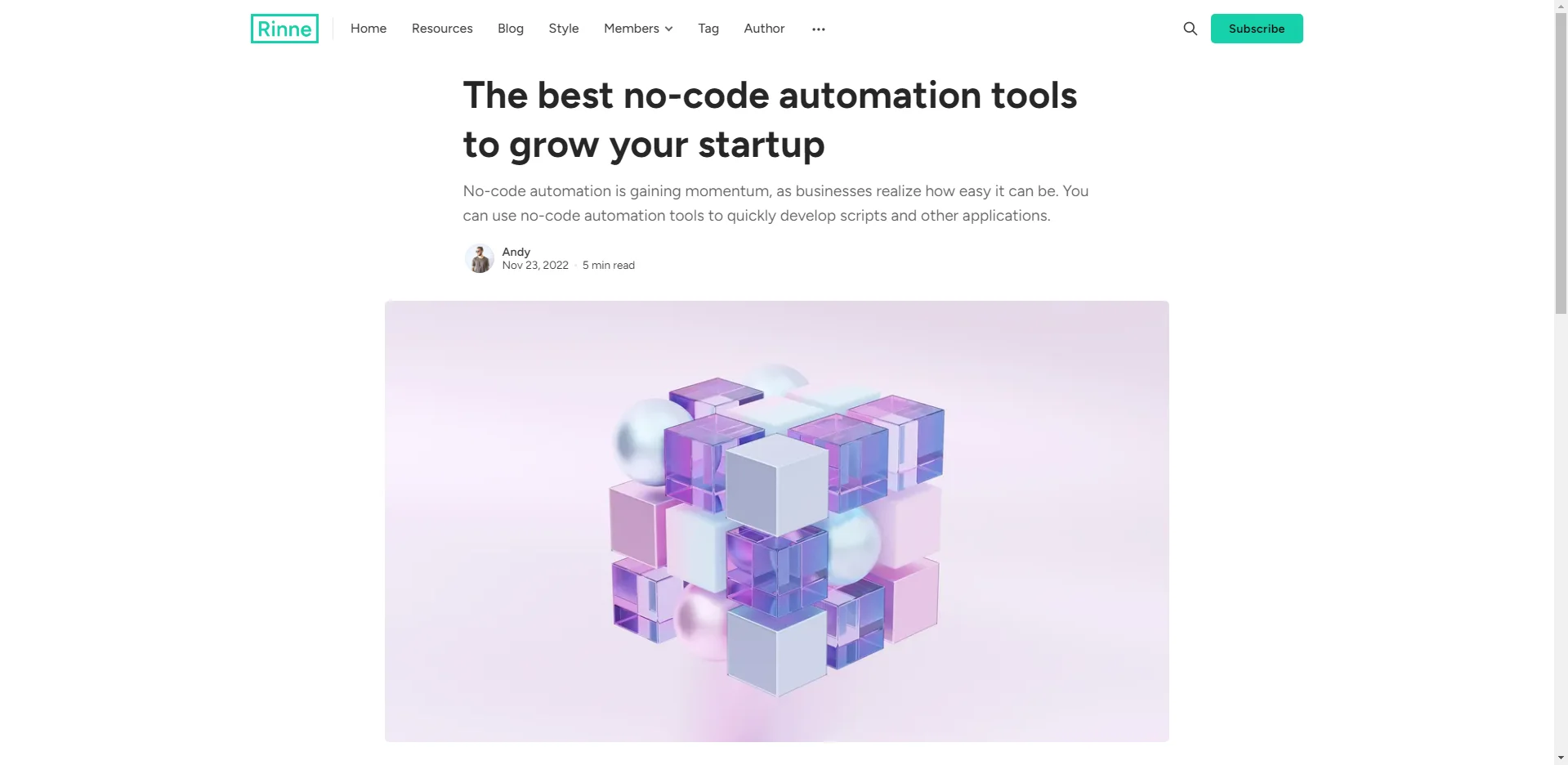 My favorite thing about Rinne is the sheer amount of built-in customizability. There are five different home page layouts and six different blog post layouts to choose from, plus light and dark versions of each. It also comes pre-loaded with a wide selection of font families.
In terms of the blog post layouts, I love that the theme comes pre-loaded with sticky sidebar widgets like a table of contents, a call-to-action box, social media icons, and a list of the latest posts.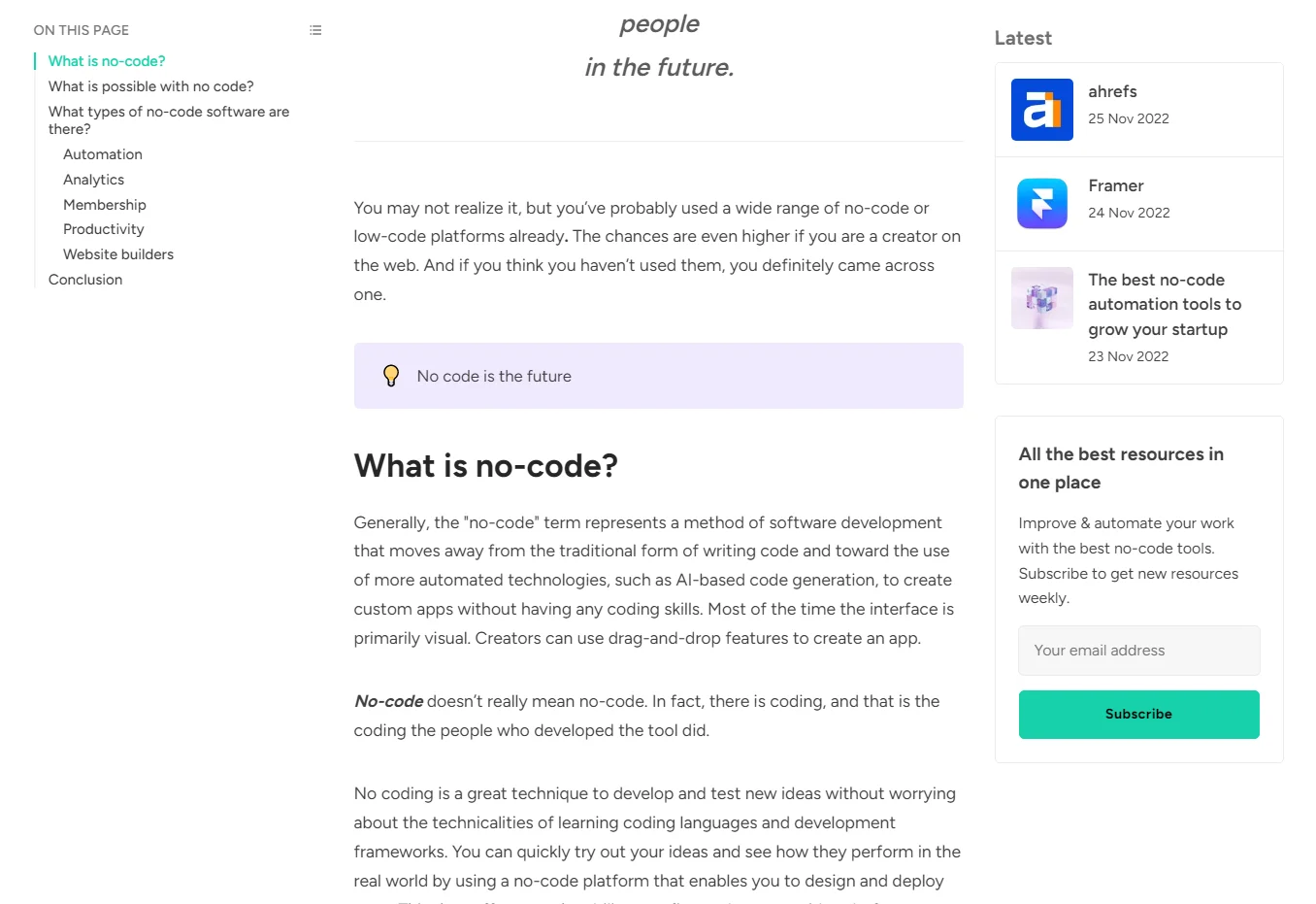 There really isn't much I would change about this theme; I believe it's the best option out of the box as far as affiliate blogs go on Ghost. The price point of $149 might scare some potential users away, but it's clear the value is there.
---
| | |
| --- | --- |
| Feature Set | ⭐⭐⭐⭐⭐ |
| Speed & Responsiveness | ⭐⭐⭐⭐⭐ |
| Design Aesthetics | ⭐⭐⭐⭐⭐ |
| Documentation & Support | ⭐⭐⭐⭐⭐ |
Joben is the second of the two themes by Bright Themes covered in this post. It's quite similar to Rinne as far as customization goes, but is better suited for more types of blogs and membership sites. While Rinne is more of a directory, Joben is more of a publication.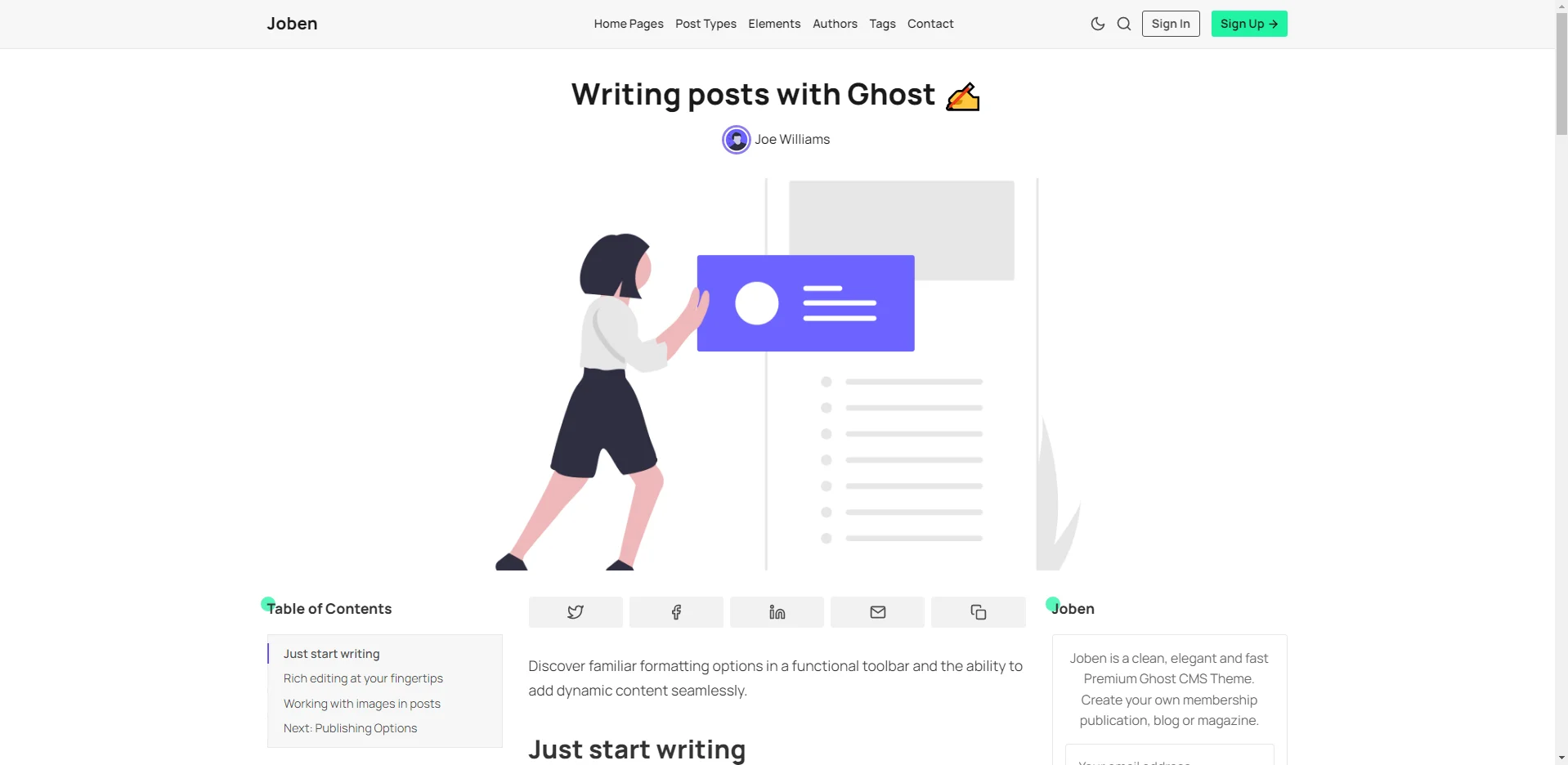 While Joben doesn't fully live up to Rinne when it comes to built-in templates, it does still have three home page layouts and three blog post layouts. It also allows users to toggle their website between light mode and dark mode, so it almost feels like you have double the number of templates to work with.
Out of the three blog post layouts, "post with table of contents" will have everything you need and should be suitable for writing most of your posts. I particularly like the design of the tags and archives pages, plus being able to toggle between grid and list view is a great addition.
I do think Rinne is quite a bit richer in terms of features than Joben, so I would expect a price difference. However, Joben is also priced at $149, which makes me question the value. That said, I do feel Joben is worth its price tag, so that just shows how much value is packed into Rinne.
You really can't go wrong with either Ghost theme from Biron Themes!
---
| | |
| --- | --- |
| Feature Set | ⭐⭐⭐⭐⭐ |
| Speed & Responsiveness | ⭐⭐⭐⭐⭐ |
| Design Aesthetics | ⭐⭐⭐⭐⭐ |
| Documentation & Support | ⭐⭐⭐ |
If you're looking to spice things up a bit with a trendy design, Groovy might be the Ghost theme for your blog. A lot of its style elements remind me of Gumroad and I've always felt they do really well from a design standpoint. I currently use Groovy on this website and it quickly became one of my favorite premium Ghost themes.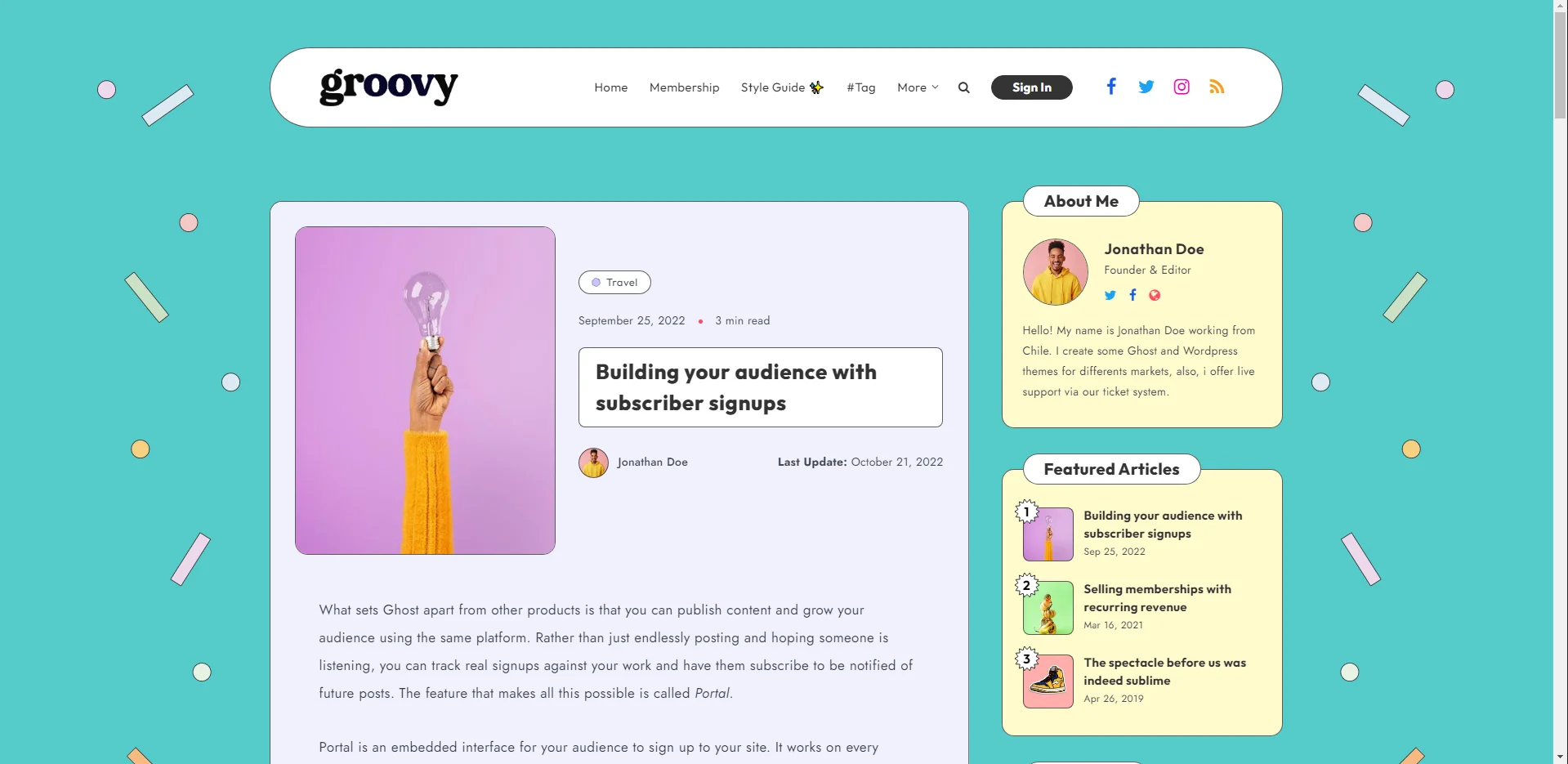 The theme comes packed with five different post layouts and a handful of widgets you can put into your sidebar. It's actually quite easy to customize your own widgets, so building something like a table of contents was a breeze. While there aren't many homepage layouts to choose from, there are enough page templates included in the theme (i.e. 404) that you can repurpose as the main page for your site.
The colors in the demo site won't be for everyone, but I'm personally a fan. I see this theme as a great way to differentiate your blog from the "sea of sameness" we see in the blogging community. I usually opt for black text on a white background for blog content, but the variable color based on tags is among the many unique features that separate this Ghost theme from anything else out there.
My only real knock on Groovy is the support from the developers. They have a good system in place for responding to support queries, but they don't really go above and beyond as some other developers might.
At $59 it's hard to find much more value than what this Ghost theme offers.
---
| | |
| --- | --- |
| Feature Set | ⭐⭐⭐⭐ |
| Speed & Responsiveness | ⭐⭐⭐⭐⭐ |
| Design Aesthetics | ⭐⭐⭐⭐⭐ |
| Documentation & Support | ⭐⭐⭐⭐ |
Basho is a Ghost theme created by a well-known theme developer named Fueko. It's a well-designed theme that's suitable for a number of different use cases.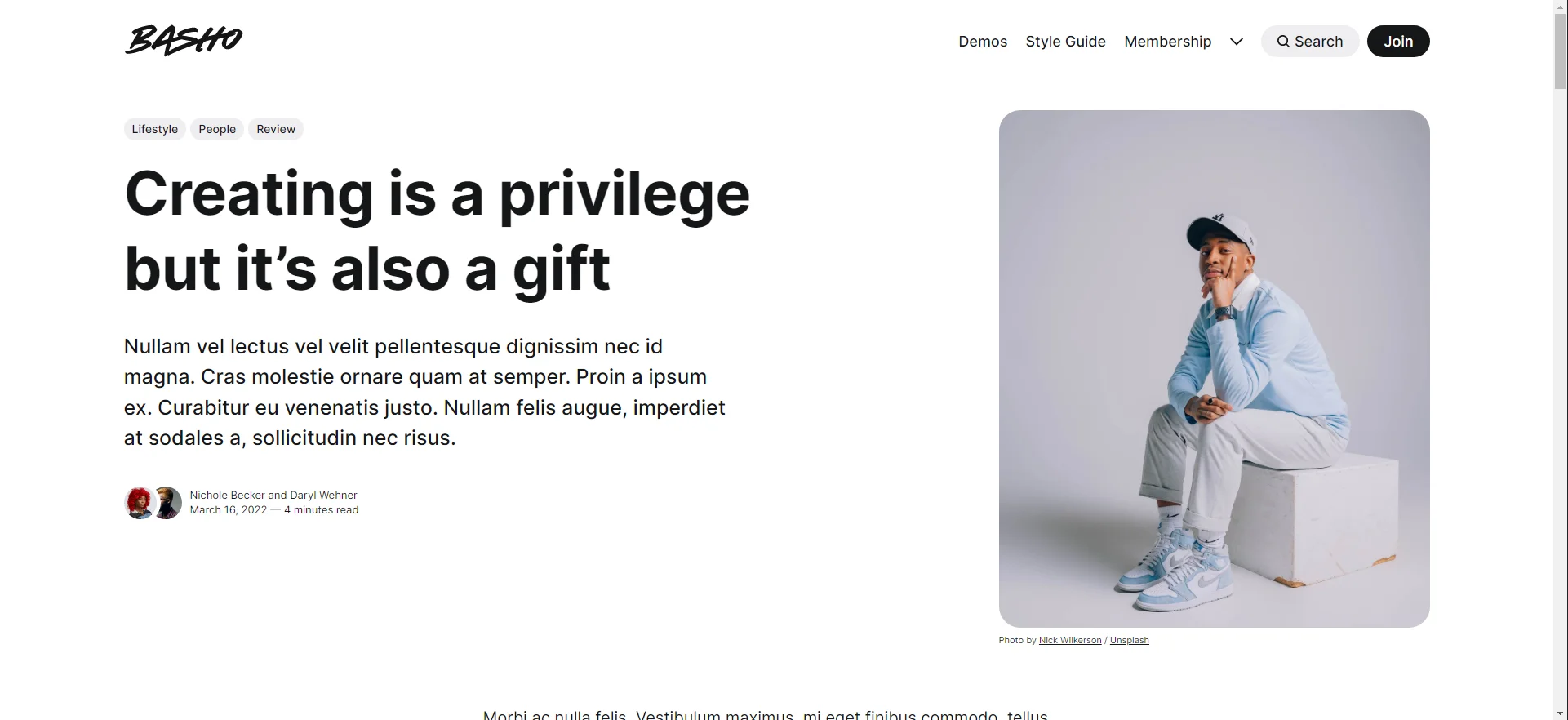 If creative freedom is important to you, you'll love Basho. While some themes offer a light and dark mode, Basho takes it a step further by offering "partial dark" and "color" versions as well. It also gives you more than 15 font pairs to choose from that suit the theme's clean, lightweight design.
The theme does lack some blog-specific features, namely sidebars with widgets. It's clear the primary focus of this Ghost theme development wasn't blogging, but rather the newsletter and membership features. With that said it's still a well-designed theme by one of the most well-known developers in the Ghost community.
For $89, I'd personally want to have more features, but the design is high enough quality that I think it'd be worth hacking together some minor customizations.
---
| | |
| --- | --- |
| Feature Set | ⭐⭐⭐⭐⭐ |
| Speed & Responsiveness | ⭐⭐⭐⭐⭐ |
| Design Aesthetics | ⭐⭐⭐ |
| Documentation & Support | ⭐⭐⭐⭐ |
Elijah is an excellent premium blogging theme that is still budget-friendly at $34. What it lacks in aesthetics it makes up for in features.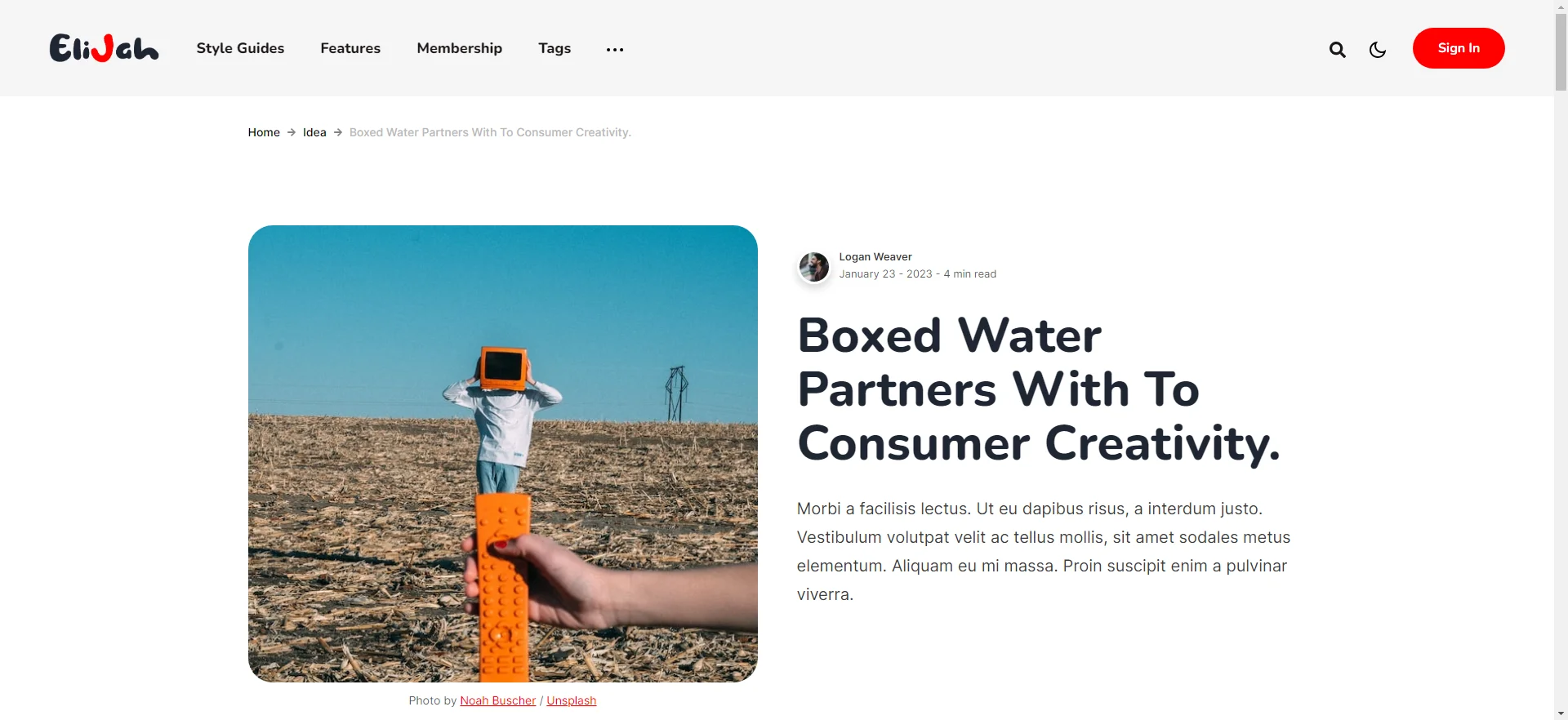 For starters, Elijah comes off the shelf with six post layouts, a 404 page, a 505 page, and responsive tables. It also has its own custom search function as opposed to relying on Ghost's built-in feature like most other themes. The theme comes with very thorough documentation too, so it should be fairly easy to make the most out of all its features.
From an aesthetic standpoint, Elijah feels like a free ghost theme. This isn't necessarily a bad thing; depending on the type of blog you're running, you may favor function over form. And for $34, you really can't go wrong.
---
| | |
| --- | --- |
| Feature Set | ⭐⭐⭐⭐ |
| Speed & Responsiveness | ⭐⭐⭐⭐ |
| Design Aesthetics | ⭐⭐⭐⭐ |
| Documentation & Support | ⭐⭐⭐⭐⭐ |
Siskin is a Ghost theme I previously used on KeanenBuckley.com. I originally chose it because I felt it had the most components of a standard website, rather than being exclusively a publication. I was able to make some customizations to the theme file so that my website could look similar to the one I previously had on WordPress.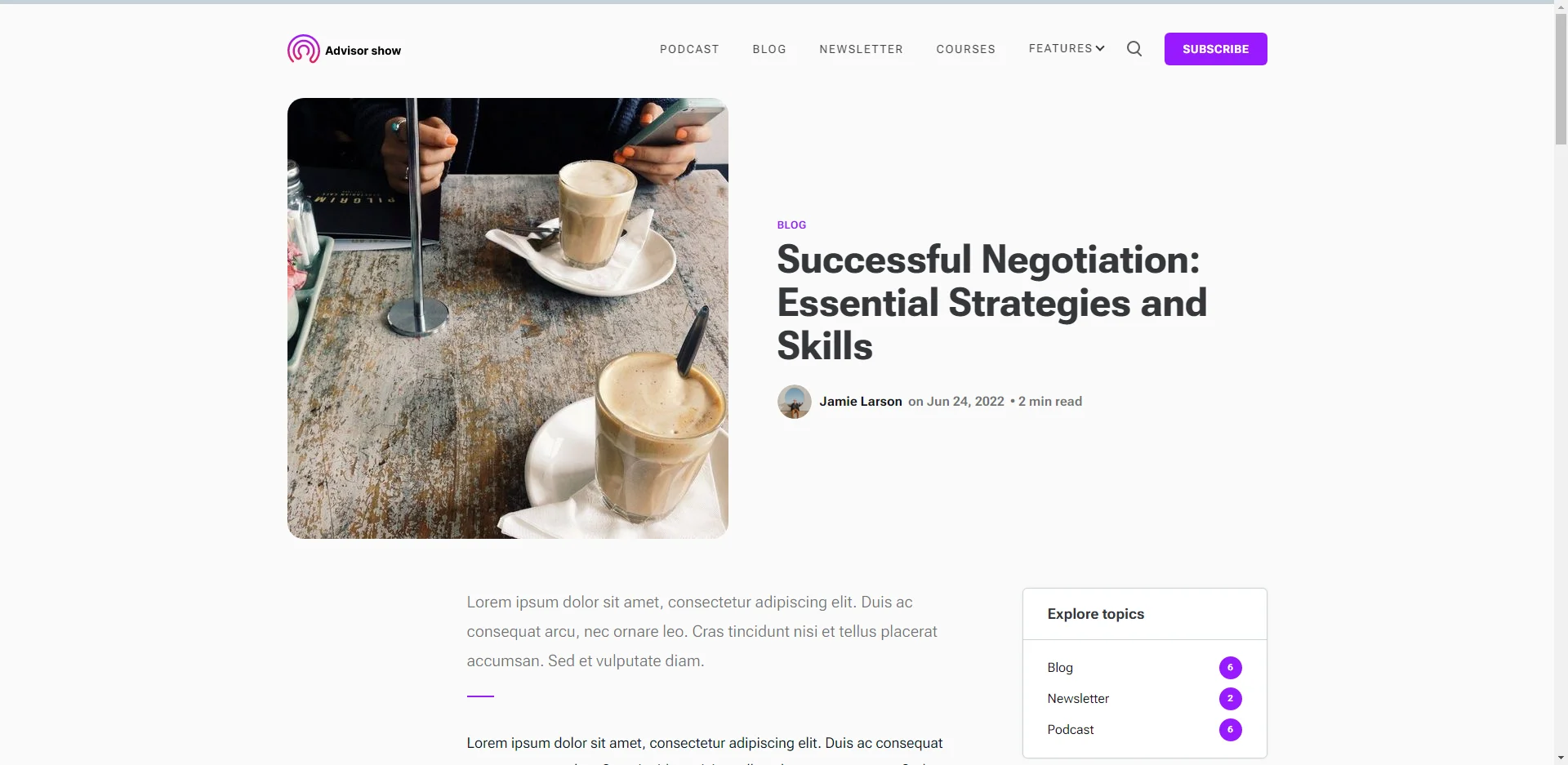 The theme comes with three post layouts and the developer has added additional ones. I was fairly new to making customizations to theme files when I originally moved over to Ghost, so it was helpful to have a theme developer who was willing to answer my questions and even make updates for me.
I did run into some speed issues at one point. I ended up making a few adjustments, such as storing fonts locally as opposed to using Google Fonts and automatically converting images to WEBP. Overall I've been very happy with the theme and would buy it again.
I do think the value is there at $99, but I might lean toward a more feature-rich theme like Rinne that seems to offer a bit more value.
---
| | |
| --- | --- |
| Feature Set | ⭐⭐⭐ |
| Speed & Responsiveness | ⭐⭐⭐⭐⭐ |
| Design Aesthetics | ⭐⭐⭐⭐ |
| Documentation & Support | ⭐⭐⭐⭐⭐ |
Nurui is another Ghost theme created by Fueko. It's quite similar to Basho, but I find it slightly less visually appealing. Both Nurui and Basho have over 1,000 sales though, so there's no doubt these are some of the most popular themes out there.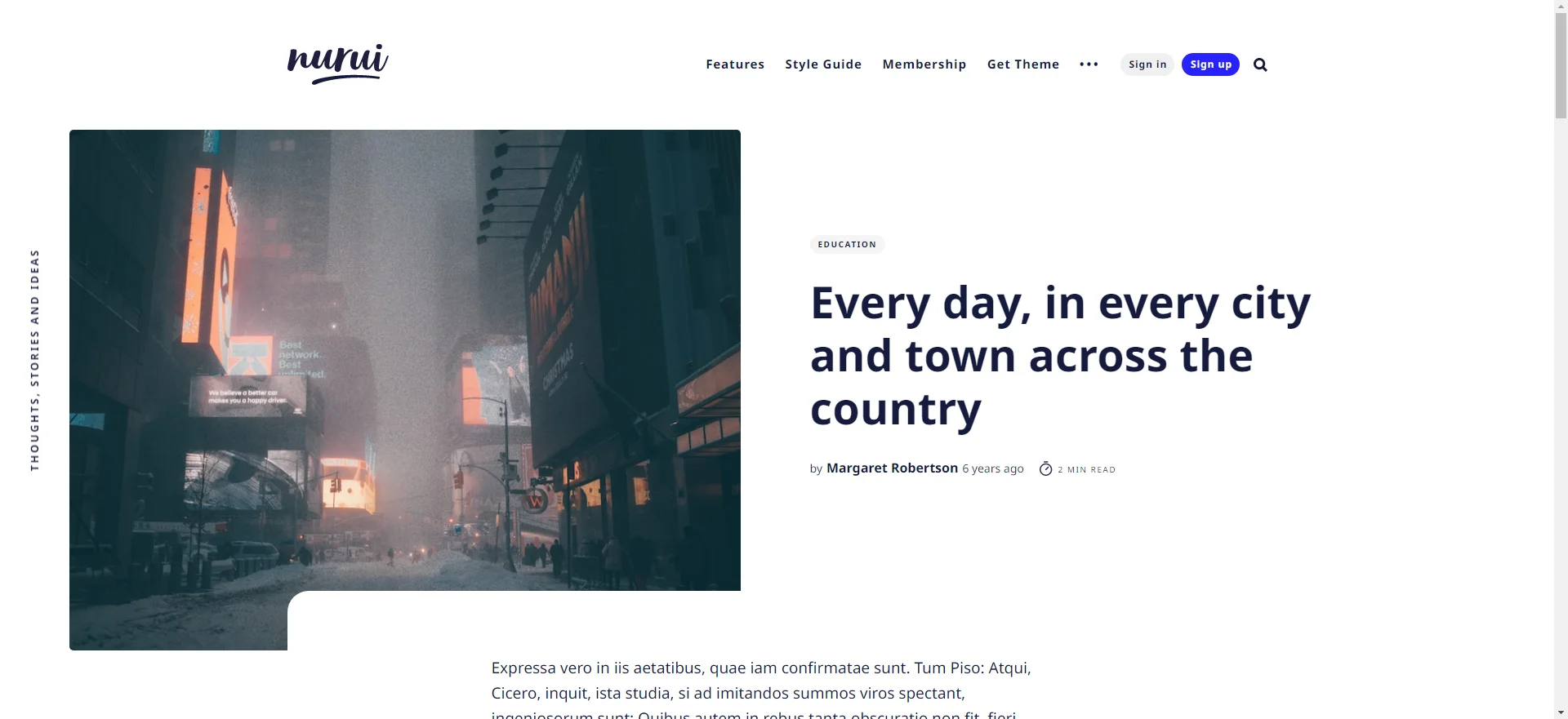 This theme is probably best suited for lifestyle and culinary blogs. There are only two blog post layouts and both seem to be oriented toward image-rich content. I don't personally have much experience with these types of blogs, but I have to think with 1.2k+ sales to date on this theme it must fit that market.
Nurui is $69, which is $20 less than its sister theme Basho. This price point makes sense to me.
---
| | |
| --- | --- |
| Feature Set | ⭐⭐⭐ |
| Speed & Responsiveness | ⭐⭐⭐⭐⭐ |
| Design Aesthetics | ⭐⭐⭐ |
| Documentation & Support | ⭐⭐⭐⭐⭐ |
Square is a multi-purpose theme built primarily with creative websites in mind, so think agencies and artist portfolios. This makes it an excellent option for bloggers who also want to have a standard website with a clean hero section on the homepage.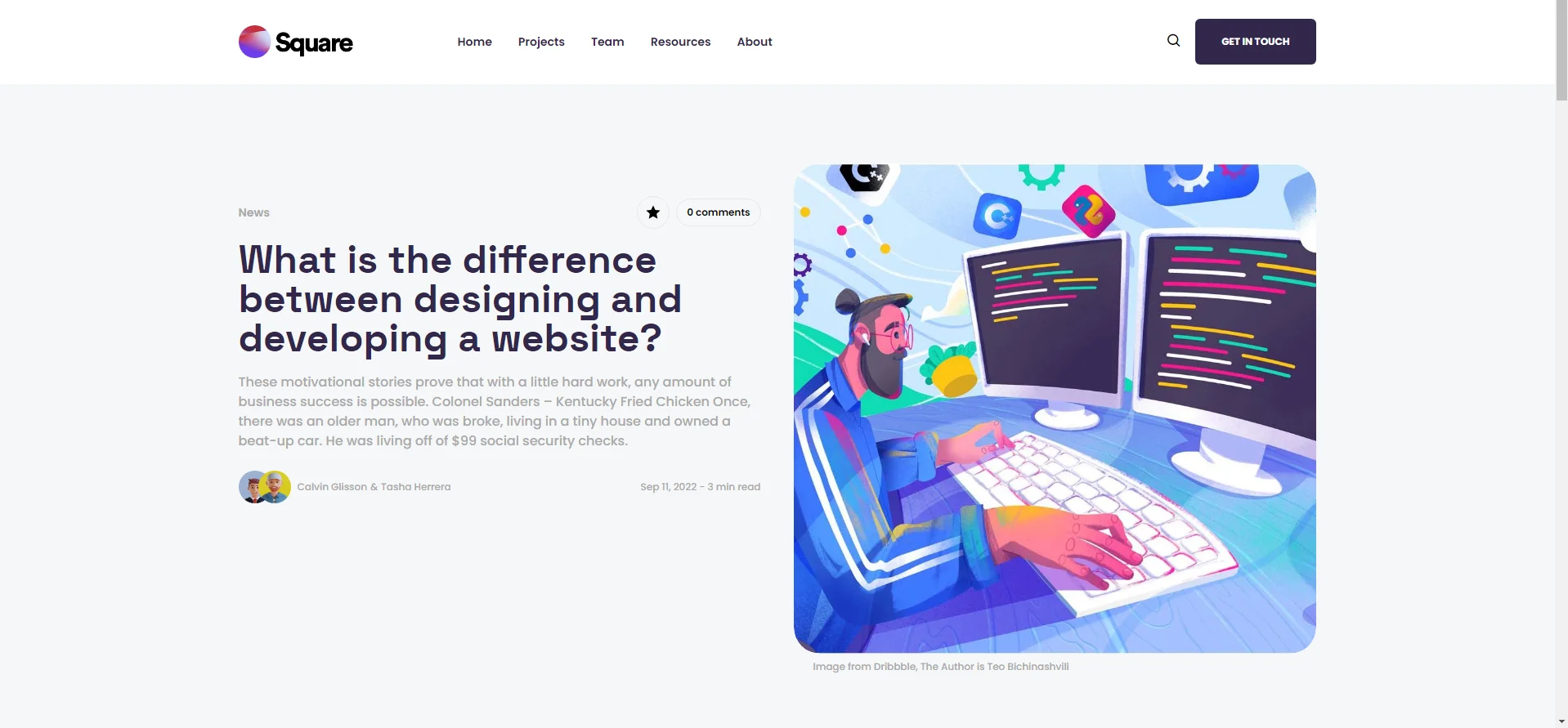 I'm most drawn to the homepage layout of this theme. Beyond the hero section, there's a built-in social proof section as well as elements you can use to discuss the services you offer. The fonts used are also quite unique.
The blogging features are about as minimal as they come though, so be ready to make a lot of customizations if you plan to monetize your blog. I'd personally steer clear of this theme for the purposes of my blog, but it's one I would consider for a service business. It costs $99.
---
---
What are the best free Ghost themes?
Here are the best free Ghost themes for blogs: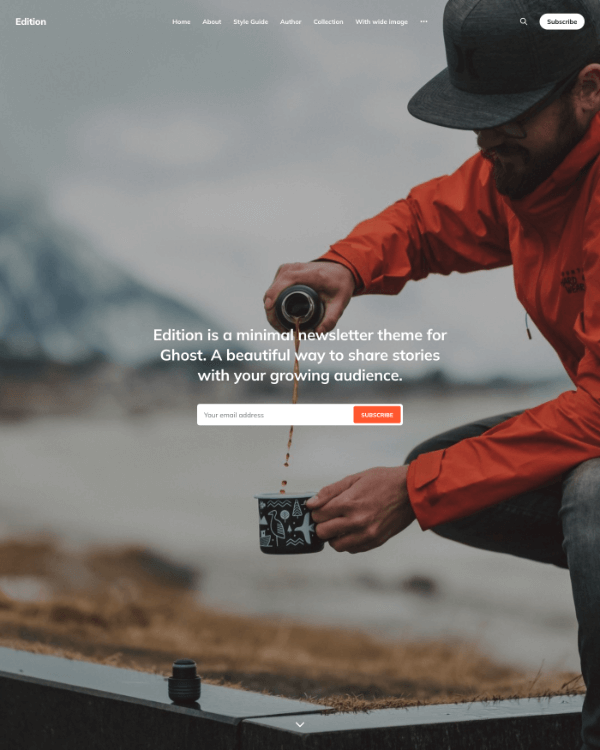 | | |
| --- | --- |
| Feature Set | ⭐⭐⭐ |
| Speed & Responsiveness | ⭐⭐⭐⭐⭐ |
| Design Aesthetics | ⭐⭐⭐ |
| Documentation & Support | ⭐⭐⭐⭐⭐ |
Edition is a user-friendly and visually appealing free Ghost theme. With clear CTAs and a wide variety of page and post templates, Edition provides a lot of flexibility without the need for excessive customizations. Additionally, the reading progress bar is a nice touch that enhances the user experience.
However, Edition does have some limitations. While easy to navigate, I usually avoid infinite load pagination for blogs. Moreover, the theme only provides one home page layout, so customization or repurposing of another layout may be required depending on your needs. Finally, a built-in table of contents is not provided, requiring manual addition.
Overall, Edition is a solid option for those looking for a clean and functional blog theme; it's my favorite free Ghost theme.
---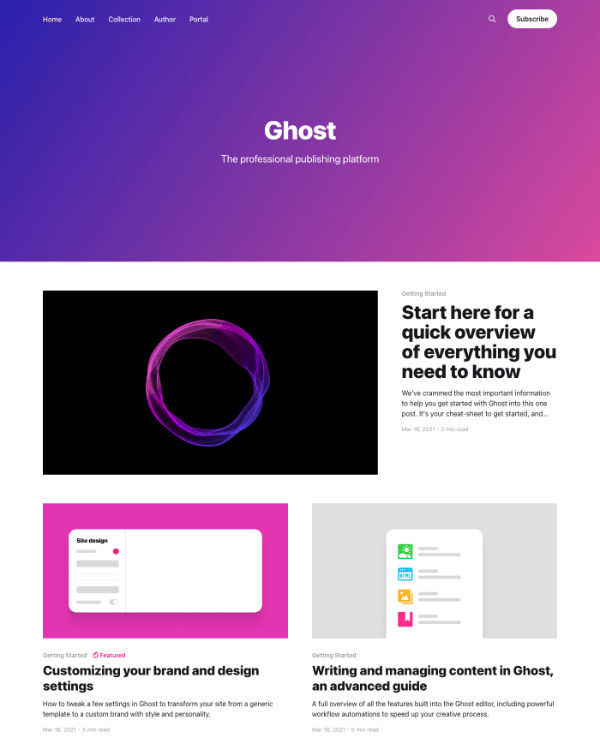 | | |
| --- | --- |
| Feature Set | ⭐⭐ |
| Speed & Responsiveness | ⭐⭐⭐⭐⭐ |
| Design Aesthetics | ⭐⭐⭐ |
| Documentation & Support | ⭐⭐⭐⭐⭐ |
Casper is a versatile and minimalist Ghost theme suitable for many types of blogs. While not very customizable, small changes can make a significant impact because of the design's simplicity. The quality of the website code is excellent, making Casper an insanely fast theme.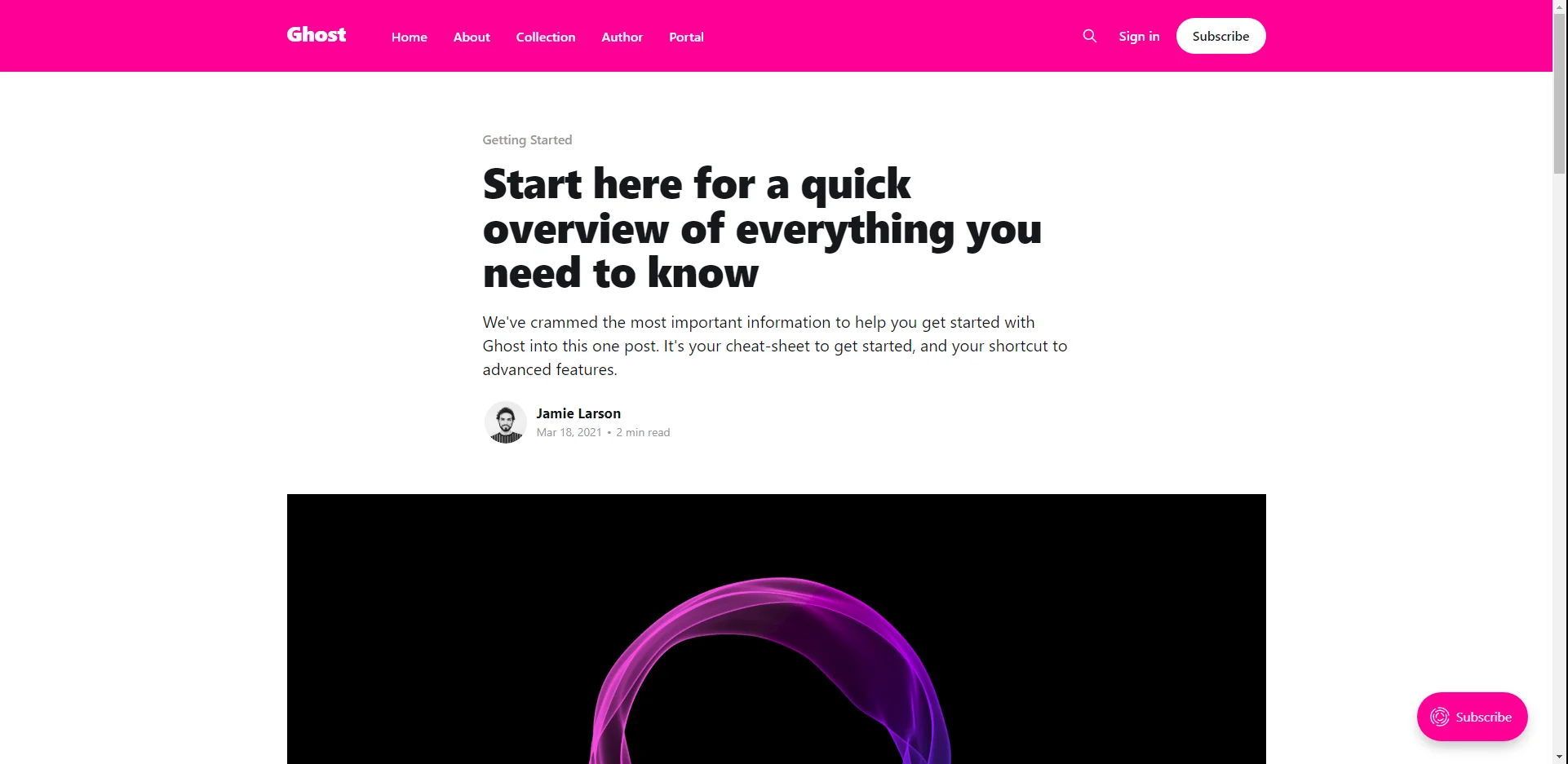 My only real knock on the theme is that it lacks variety as far as blog post layouts go, so customization is likely necessary depending on the type of blog you're creating. It's also one of the most popular themes, which inherently makes your blog a bit less unique.
Though it's considered to be a "magazine" theme in Ghost's library, I find it to be a very viable option as far as blogging themes go. Although you'll likely need to spend some time customizing the theme, lots of the how-to guides for adding various features (like a table of contents or sidebar widgets) will be demonstrated on the Casper theme.
I'd say it's a close second behind Edition.
---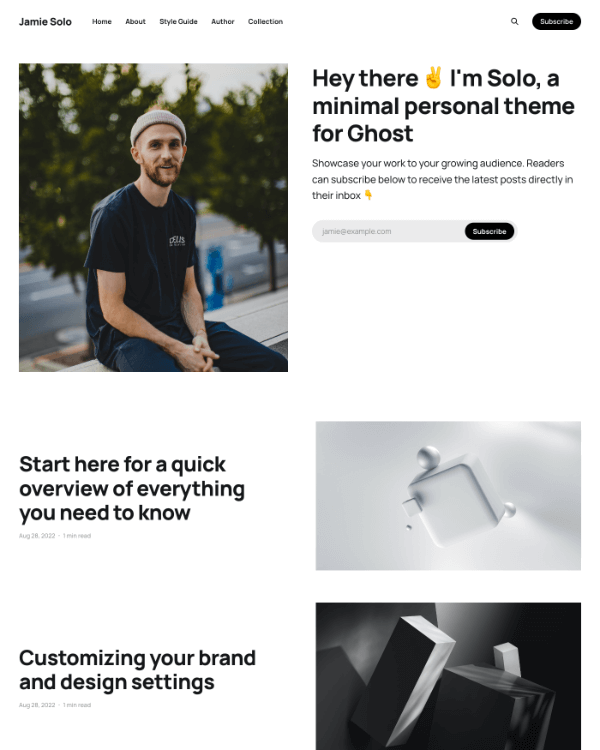 | | |
| --- | --- |
| Feature Set | ⭐⭐ |
| Speed & Responsiveness | ⭐⭐⭐⭐⭐ |
| Design Aesthetics | ⭐⭐ |
| Documentation & Support | ⭐⭐⭐⭐⭐ |
Solo is another official theme from Ghost, so you already know it's going to be well-built, snappy, and really good for what it is. The branding definitely gives off Apple vibes. It's a great option for a personal blog and newsletter.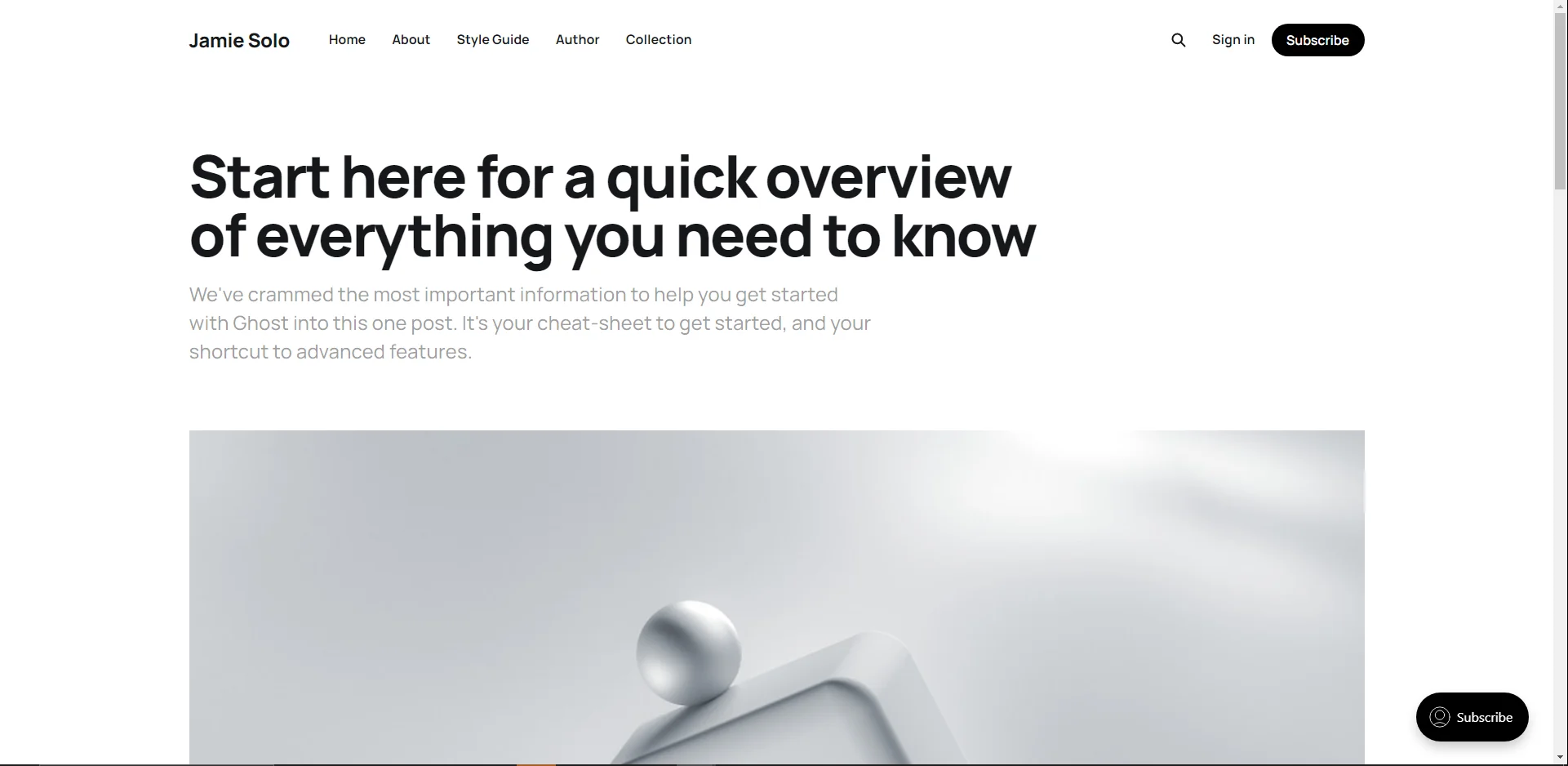 By now, you're probably starting to see some common "themes" with the free Ghost themes. They're built to get people up and running quickly so they can start publishing content. This is great for a lot of users out there, but professional bloggers might feel a bit handcuffed by the lack of features.
Solo is no exception here. It's true to its positioning as a minimal personal theme from a design perspective, but I wish this wasn't also true for its feature set. I'm also not crazy about how the author byline is placed on the desktop version of posts.
This theme is multiple customizations away from being a viable option as anything more than a personal journal-type blog. There's nothing wrong with this—I just wouldn't waste your time trying to make it work for you when there are other options that offer a better starting point.
Solo is a bit too minimalist for my liking and use case, but it would be perfectly suitable for something like a travel blog. If that works for you, go for it!
---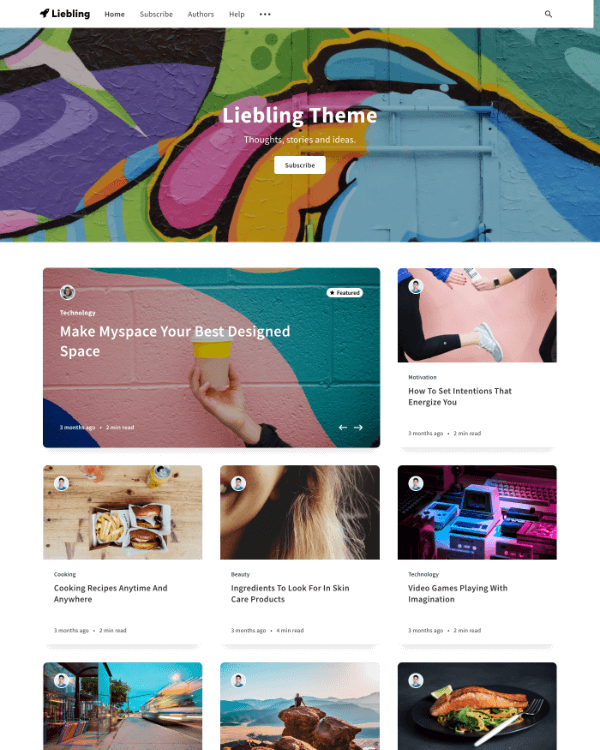 | | |
| --- | --- |
| Feature Set | ⭐⭐⭐ |
| Speed & Responsiveness | ⭐⭐⭐⭐ |
| Design Aesthetics | ⭐⭐ |
| Documentation & Support | ⭐⭐⭐⭐ |
Liebling is quietly a really good option for a free theme. The way the demo site is designed might leave something to be desired, but I think this is mainly due to the copy and imagery used. This theme isn't designed by Ghost, but rather by an independent developer named Eduardo Gomez, which explains why it isn't staged as professionally.
The first thing that stands out to me about this theme is a lot of pieces are in place to make customizations easy.
The homepage hero section is simple with a background image, clear H1, supporting text, and a call-to-action button. On the blog post template, there's a sticky sidebar with a unique reading progress tracker and social links, which would be a great place to add a simple table of contents or ad spaces. There are a few other nice features to see, such as a clean archives layout and a dark mode toggle.
If there weren't premium themes out there that had a much richer feature set, I probably would have given this theme four stars in that category. Where it falls short for me is its design aesthetics, resources and documentation, and overall build quality. This is largely due to the fact the theme wasn't created by Ghost, but it does make me question how much support would be available for users.
Overall though I would say this is a really good free option and it's one I would certainly consider if I were to build a blog on a budget entirely from scratch.
---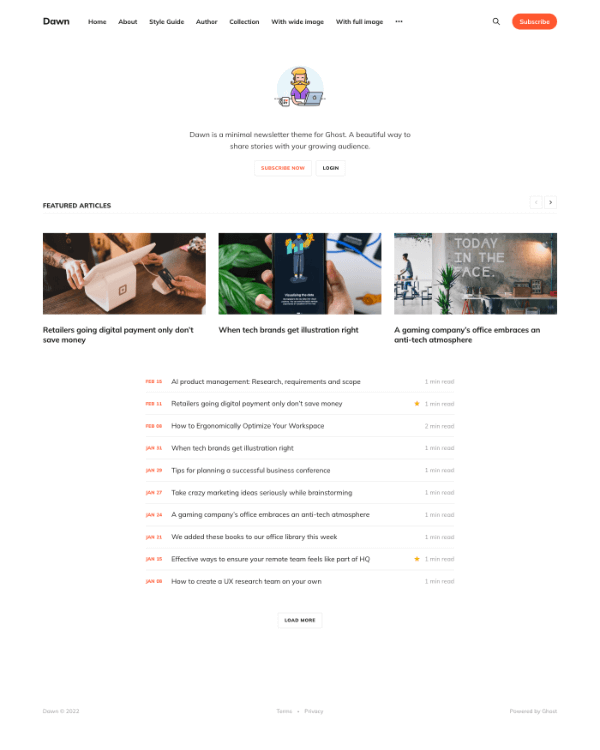 | | |
| --- | --- |
| Feature Set | ⭐⭐⭐ |
| Speed & Responsiveness | ⭐⭐⭐⭐⭐ |
| Design Aesthetics | ⭐⭐ |
| Documentation & Support | ⭐⭐⭐⭐⭐ |
I love this theme for newsletter-primary publications, and I wouldn't necessarily sleep on it for a blog either. It's a very minimalist, but modern theme that would work really nicely for a startup's blog or professional blogging business. The design won't be for everyone, though more and more websites are popping up with this style.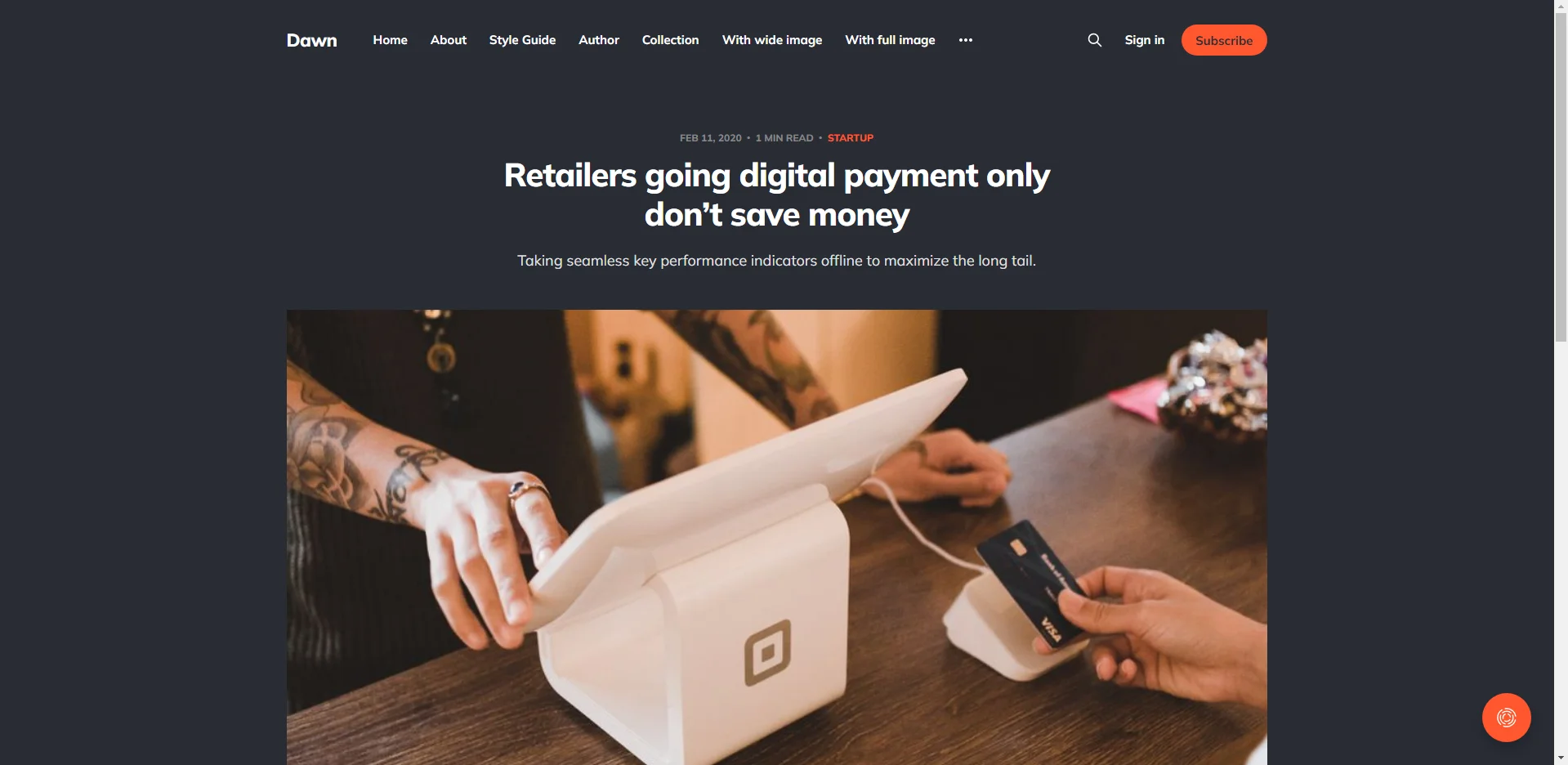 What stands out to me most about this theme is the four different post layouts. There are also a few different options for displaying post archives and featured articles, such as a carousel, masonry layout, or text list. Additionally, you can toggle between light mode and dark mode, so don't get too hung up on the light text with dark background on the demo site.
This is an official Ghost theme, so you know the build quality will be top-notch and you'll get great speed. It'll certainly take some customization though to make it suitable for a blog (rather than a membership/newsletter site), but a lot of the pieces are there.
This is another viable option as far as free ghost themes go.
---
FAQs about Ghost themes
What is Ghost?
Ghost is an open source blogging platform, meaning the source code is freely accessible to anyone who wishes to modify or redistribute it. The platform makes it easy for creators, writers, and content marketers to create and share content. Additionally, it offers built-in functionalities for creating newsletters and membership sites, providing Ghost blog owners with an easy way to attract an audience and generate revenue.
What are Ghost themes?
Ghost themes are pre-designed templates that change the appearance of a Ghost blog without the need for a web developer. They allow bloggers to customize the look and feel of their site without having to start from scratch. Ghost themes come in a variety of styles and designs, providing bloggers with plenty of options to choose from.
What is the best blogging theme for Ghost?
This is relatively subjective and comes down to personal preference. My favorite free ghost theme is Edition, and my favorite paid theme is a tie between Rinne and Groovy.
Should I use a free Ghost theme?
Yes - there is nothing wrong with using a free Ghost theme. There are some quality official ones to choose from that are fast, responsive, and great for blogging. You'll find that a lot of the free Ghost themes will have solid documentation and a lot of community support resources like guides and tutorials.
If you'd rather get up and running quickly with a wider range of features, I'd recommend considering buying a premium Ghost theme.
How do I change my Ghost theme?
To change your theme in Ghost, you need to log in to your account and click the gear icon in the bottom-left corner to access settings. From there, click "Design" and then click "Change theme" in the bottom-left corner. You can select one of Ghost's built-in official free themes or upload your custom theme.
Can I customize my Ghost theme?
Yes, you can customize a Ghost theme, but doing so requires some coding experience and practice. To edit your theme files, navigate to the "Design" section, click "Advanced" in the top-right corner, and download your theme. You will need to extract your .zip file and open the folder in Visual Studio Code (or a similar program) to make modifications to the files.
Wrap Up
Whether you're using Ghost, WordPress, or another blogging platform or website builder, you'll know how important it is to choose a theme that fits your needs.
Familiarizing yourself with the best Ghost themes on the market will help you make the best decision for your blog. If you can't afford a premium theme when you're starting out, there are plenty of free Ghost themes to choose from. Before choosing your theme, make sure you try out some live demos to see how it feels to navigate around the website.
If you'd like to learn a bit more about Ghost, be sure to check out my honest Ghost review and my post comparing Ghost vs WordPress.
✔️
Disclosure: Some of the links in this article may be affiliate links, which can provide compensation to me (at no extra cost to you) if you purchase a paid plan. You can read our affiliate disclosure in our privacy policy.
Subscribe to our email newsletter and unlock access to members-only content and exclusive updates.