Blogging is one of the best business models for creators who are looking to build passive income streams. But with all of the advancements in technology and the growth of the creator economy, there are so many blogging platforms to choose from. For me, it really only comes down to two: Ghost vs WordPress.
Ghost has come onto the scene as a viable WordPress alternative. It's a modern, lightweight, simple blogging platform that offers creators an all-in-one tool for creating membership sites and newsletters. While WordPress may be prone to becoming bloated and slow, it's still the go-to content management system (CMS) for professional bloggers.
But does Ghost have what it takes to dethrone WordPress? Should you launch your new blog on WordPress or Ghost? Should you move your existing blog to Ghost from WordPress? In this post, I'll compare these two popular blogging platforms and help you answer your questions.
Let's dive in!
✔️
Disclosure: Some of the links in this article may be affiliate links, which can provide compensation to me (at no extra cost to you) if you purchase a paid plan. You can read our affiliate disclosure in our privacy policy.
Ghost vs WordPress: Overview
Ghost is a Node.js-based CMS, providing users with an efficient publishing platform to develop and manage their content quickly and securely. It has been specifically designed with writers in mind so they can quickly get up and running with minimal effort required. Additionally, by using Markdown language instead of HTML tags when editing posts or pages, writers are able to focus more on crafting great content rather than worrying about formatting issues.
Some of Ghost's most prominent features are:
Lightning-fast speed, making Ghost SEO great out of the box.
Built-in newsletter and membership site functionality, so monetization is possible from day one.
Large selection of high-quality Ghost themes so you're likely to find one that fits the website you envision.
Since its initial launch in 2003, WordPress has gained immense popularity and become one of the leading CMSs available. The base program, coded in PHP, can be broadened with plugins and most WordPress themes allow users to tailor their website's look, performance, and functionality with a few clicks. Users can install any number of these add-ons to customize their site's look, feel, functionality, and performance.
Some of WordPress' most prominent features are:
Massive library of paid and free plugins, offering your site ultimate customizability.
User management makes collaboration with writers, editors, developers, etc., very easy.
Large selection of WordPress page builders to choose from for a what-you-see-is-what-you-get (WYSIWYG) web design experience.
The main difference between the two is that Ghost is a fast, lightweight all-in-one platform built for publishing, while WordPress has a larger ecosystem of developers, plugins, and resources for customizing any kind of site.
However, this isn't enough information to answer which is the better blogging platform. We'll need to compare WordPress with Ghost on their individual features to reach a verdict.
Let's get into it.
Ghost vs WordPress: Which is the better blogging platform?
Ease-of-use
Built-in features
Customization
SEO
Speed and technology
Security
Price
---
1. Ease-of-use for blogging
When it comes to blogging, both Ghost and WordPress offer users a great experience. However, when comparing the two platforms from an ease-of-use perspective, there are some distinct differences that make one stand out over the other.
Getting started
Spinning up a website and starting to publish content can be done fairly simply on both platforms, though both do have their challenges.
With Ghost's managed hosting option (Pro), all you need is a domain name. Web hosting is handled by Ghost as well as virtually every other feature you could need to get started. The only other thing to do is pick a theme, but Ghost makes that a breeze during its onboarding process.
WordPress is a bit of a different story though. In addition to your domain name, you also need to bring your own web hosting (self-hosting WordPress is better), install a page builder, find a WordPress theme, and install a number of other plugins for things like security, caching, image optimization, and more. We'll discuss customization in a later section, but it's worth noting here that WordPress does make it easier for you to build and design a website to your taste.
Writing, editing & publishing
When it comes to crafting your content and posting it, comparing WordPress vs Ghost will show two fairly different experiences.
For starters, Ghost uses a markdown editor whereas WordPress uses the WordPress text editor. Ghost's interface is designed for speed and efficiency, so the whole process of creating content and publishing it is quick and easy. The WordPress editor on the other hand is a bit clunky and not somewhere you'd want to do your writing.
Additionally, putting the final touches on a post like adding images and setting the metadata is quite intuitive in Ghost and can be done in just a few clicks. With WordPress, you'll be using the media library for images which, despite its benefits, can be a bit of a headache to navigate. Even if you write your posts outside of your CMS in a tool like Google Docs, your formatting transfers into Ghost much more consistently than in WordPress.
Winner: Ghost
Overall, if ease-of-use is what matters most when choosing between these two platforms then Ghost is best for you. Unlike WordPress, it offers an intuitive publishing experience along with faster setup times so that anyone can get their blog off the ground quickly without needing any technical knowledge or expertise whatsoever!
Get started with Ghost.
---
2. Built-in features
Ghost and WordPress both provide powerful solutions for website creation and blogging purposes, however, they differ in terms of built-in feature offerings. One provides a comprehensive suite of integrated tools, while the other allows you to only install and pay for what you want. Both approaches have their pros and cons.
Ghost is an all-in-one platform that has a wide range of features already included in its core package. This includes everything from newsletters and memberships to search engine optimization tools and analytics tracking capabilities. With Ghost, you don't need to install any additional plugins or extensions (though you can add integrations!); everything you need is already there out of the box.
WordPress on the other hand requires users to manually install various plugins in order to get access to certain features such as newsletters, memberships, SEO, and more. The main benefit here is that users have more flexibility since they can choose which specific plugins they want to pay for and have installed. However, this also presents a couple of drawbacks:
There are usually cost savings in bundling, so paying for 1-2 additional plugins from different third parties can be more expensive than having an all-in-one solution.
Users don't always know how WordPress plugins will "play" together, which can lead to a slow website and other issues.
Winner: Ghost
While WordPress makes it easy to find plugins and install them on your website, I believe it's ultimately better to use Ghost's all-in-one platform. Doing so can provide cost savings and confidence that everything has been built to Ghost's quality standards.
Get started with Ghost.
---
3. Customization
Customization is a key factor when it comes to choosing the right platform for content marketing and monetization. Ghost and WordPress are two popular options, but they have different approaches to customization.
Ghost requires coding experience in order to customize your site, which can be daunting for those without any technical knowledge. It's important to understand HTML, CSS, JavaScript, and other programming languages if you want to make changes on Ghost. This means that creating custom designs or adding extra custom features can be difficult unless you know how to code or are willing to hire a developer.
WordPress offers an easier way of customizing your website through its what-you-see-is-what-you-get (WYSIWYG) page builders. These tools allow users with no coding experience to create beautiful pages quickly and easily by dragging and dropping elements into place. You don't need any special skills or training and there are plenty of themes available so you can get started right away without having to design anything from scratch.
Winner: WordPress
Overall, WordPress is the better option for individuals who may not have a coding background because it allows them to customize their sites without needing any technical knowledge or experience. Ghost, on the other hand, would be a better option for more established teams and publications who have developer resources.
Get started with WordPress.
---
4. SEO
When it comes to SEO, comparing WordPress vs Ghost is pretty close. Both options can be easily integrated with Google Search Console and Google Analytics. have their own unique advantages when it comes to optimizing your website for search engine rankings.
Native SEO
Ghost has native SEO features built into its platform, which makes it easy to set up basic optimization with minimal effort. It also offers a few advanced options such as setting custom meta descriptions and titles, allowing you to customize how your pages appear in the results of search engines. However, if you want more comprehensive SEO features such as content analysis and custom schemas, then you will need to use third-party WordPress SEO plugins like Yoast or Rank Math.
Most of these plugins are only available in WordPress. So while WordPress doesn't have native SEO features, the additional plugins that can be easily installed are more comprehensive than what you could do with Ghost's built-in features. It just becomes a question of whether or not these additional features make up for the difference in speed between the two platforms.
Speed
One key difference between Ghost and WordPress from an SEO perspective is speed; Ghost sites tend to load faster than those powered by WordPress due largely in part because of its streamlined architecture which minimizes server requests.
This increased loading speed not only helps improve user experience but also has significant implications for improving organic ranking positions since page loading time is now considered one of the major factors taken into account by Google's algorithm when determining where websites rank. We'll look at speed in a bit more detail in the following section.
Winner: Ghost
When I moved over to Ghost from WordPress, I was worried about no longer being able to use Rank Math. I quickly found that they weren't truly an important part of my blog production workflow. I decided getting more speed and a simpler UI outweighed losing the advanced SEO features a WordPress plugin can provide.
Get started with Ghost.
---
5. Speed and technology
If building your blogging site on a modern, fast technology stack is what's most important to you, then choosing between WordPress vs Ghost will be an easy decision.
Speed (again)
I won't belabor the point here; when it comes to performance, there's no denying that Ghost is the clear winner.
Ghost has been proven to be as much as 1,900% faster than WordPress in some cases. This means pages load almost instantly on Ghost-powered sites, while they can take several seconds or more on WordPress sites.
Technology
The difference in loading times is due largely to the underlying technologies used by each platform. WordPress uses PHP and MySQL for its core functionality which can lead to slowdowns if not properly optimized. On the other hand, Ghost runs on Node.js with an embedded SQLite database which makes it significantly faster than its competitor out of the box - no optimization required!
Another advantage of using Node.js over PHP is scalability; since Node.js is asynchronous, you don't have any blocking issues like you do with synchronous languages such as PHP. This allows your website's performance to remain consistent, even under heavy traffic loads. Additionally, Ghost also offers a built-in caching layer for static assets such as images and JavaScript files.
Overall, Ghost has a much more modern setup compared to WordPress.
Winner: Ghost
If speed matters most then look no further than Ghost. Its modern technology stack provides unbeatable speed without sacrificing much of the functionality you can get through WordPress.
Get started with Ghost.
---
6. Security
Fundamentally, both Ghost and WordPress are secure platforms that are trusted by some of the world's largest companies, publications, and creators. They're both open source software platforms, which means anyone can view the underlying codebase and potentially find vulnerabilities.
Because WordPress sites rely heavily on third-party plugins, a WordPress site is more prone to vulnerabilities. To make matters worse, many users don't keep their software up-to-date with the latest security patches, leaving them vulnerable to attacks. When it's time to update Ghost, everything is done all at once.
With WordPress, everything needs to be updated individually. There are several free plugins for security and updates on WordPress, but most of them are freemiums, meaning you have to pay for some important features.
On the other hand, Ghost is designed with built-in security measures that protect against common web threats like XSS attacks and SQL injection attempts. Also worth noting is that while Ghost has far fewer third-party themes and integrations, the ones it does have are vetted and well-documented; everything that's built for Ghost meets its standards.
Winner: Ghost
The sheer size of the WordPress ecosystem makes it inherently less secure as it's a much more lucrative place for hackers to focus their energy. But that's not the only reason why I gave the edge to Ghost here. Security feels like something you shouldn't have to rely on external plugins for.
Get started with Ghost.
---
7. Price
There are a lot of things to consider when comparing WordPress vs Ghost from a pricing standpoint. It really comes down to what you want to build and what features you want your blog to have. For the purposes of this comparison, I'll be looking at Ghost's managed web hosting option, Ghost(Pro), and self-hosted WordPress.
Ghost
Ghost plans start as low as $11/month all the way up to $249/month, though subscribing on an annual basis saves 20%. The plans are:
Starter: $11/month
Creator: $31/month (this is the plan I use)
Team: $63/month
Business: $249/month
The main difference between the Starter and Creator plan is being able to use custom themes. But keep in mind Ghost has some high-quality free themes that are great for blogging.

Here's a comprehensive look at all of the features included in each Ghost(Pro) plan: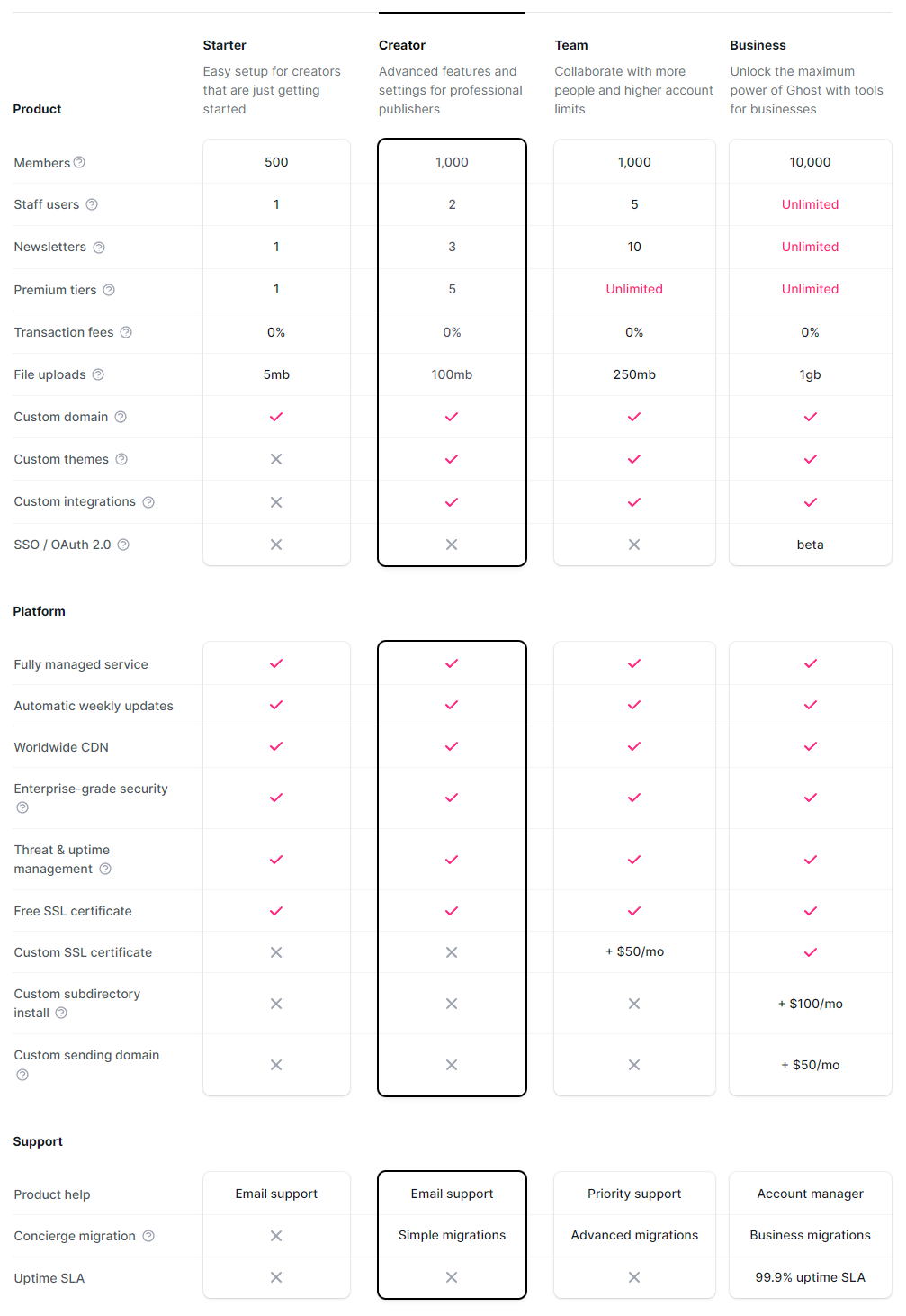 For my blog, I pay $31/month and I purchased a premium theme for $99. This brings the total I invested to $471 in my first year.
What if you don't want all those features, though? That is a totally valid point! Not every blog needs membership functionality or a built-in newsletter, so let's see what you can pull together "à la carte" with WordPress.
WordPress
When I first started my blog on WordPress, these were my expenses:
Web host: I paid $30 for one year of BlueHost's Basic plan (this was at 70% off), which also included a free domain name.
Page builder: I purchased the Kadence Essential Bundle for $130 (future years are $150).
Theme: I used the Kadence theme.
SEO plugin: I used Rank Math on the Pro plan for $60 annually.
Image optimization: I purchased $10 worth of credits on ShortPixel.
Security: I used the free version of Wordfence.
CDN: I paid $60 for a 1-year subscription to WP Rocket.
This comes out to a total of $290, though keep in mind the price in the second year goes up by ~$90.
If you're leaning toward WordPress and you need to bring your own hosting, Bluehost is one of the web hosting companies you should consider. Sign up for Bluehost and save up to 70%.
While this is a more affordable option initially, it doesn't stay that way for long. As soon as you want to add additional functionality like memberships, gated content, or a newsletter, you're introducing more subscriptions. Your website isn't as future-proofed on WordPress from both a technology and features standpoint.
Winner: Tie
This one is difficult to call. WordPress is a more affordable option at the start, largely because of deeply discounted tools, premium themes, and software. These expenses grow considerably in future years, at which point you're platform-committed because of the work you've put into your blog.
I personally think Ghost is worth the extra investment up front. You can find confidence in knowing it's a platform that will grow with you and be a top-performing CMS for years to come. Plus the theme developers I've worked with offer excellent support, so I've been able to customize the premium themes I purchased.
Get started with Ghost.
Key takeaways: Ghost vs WordPress
Now that we've looked at both platforms, it's time to make your decision. While the two platforms can provide you with a high-quality blog, they do so with fairly different approaches. Although I deemed Ghost to be equal to or better than WordPress in 6 of 7 categories, it all depends on what features are most important to you.
To help you with your final decision, I've compiled a summary of the pros and cons of each platform.
---
Ghost review
Pros

Cons

✔️ All-in-one platform
❌ Limited customization
✔️ Fast performance
❌ Smaller community
✔️ Markdown support
❌ More expensive for starters
✔️ Modern technology
✔️ Built-in monetization
✔️ Overall easier to use
---
Wordpress review
Pros

Cons

✔️ Extensive customization
❌ Steeper learning curve
✔️ Large community
❌ Slower performance
✔️ Massive plugin ecosystem
❌ Vulnerable to security risks
✔️ Tons of WordPress themes
❌ More maintenance
✔️ Flexible platform
Ghost vs WordPress FAQs
Is Ghost better than WordPress?
It is difficult to definitively say whether Ghost or WordPress is better as it largely depends on the individual needs of each user. Generally speaking, Ghost offers a more modern approach with an emphasis on content creation while WordPress has been around longer and provides more flexibility in terms of customization options.
Is Ghost CMS worth it?
Ghost is a powerful and versatile CMS that can be used by content creators, publishers, and any business that needs a full-fledged publishing platform. I personally haven't looked back since moving my blog to the Ghost platform.
Is Ghost a good website builder?
Ghost isn't a great website builder. It's built for publishing content, not to host an entire business website. That said, even official Ghost themes can be customized with a bit of coding experience or the help of an AI tool like Chat-GPT.
Closing notes
To wrap this up, when deciding between Ghost and WordPress for creating a website or blog, it's important to consider the pros and cons of each platform and what's most important to you. Both Ghost and WordPress have positives, such as convenience, scalability, features, and cost; but the final decision comes down to your website's needs.
If you're looking for an easy way to get started with blogging and you want a hassle-free setup then Ghost, a primarily publishing-focused platform, is the best option. If you want more flexibility and customization, or if your website is more than a blog, WordPress is probably the better option. Regardless of which platform you choose, think about the long-term.
✔️
Disclosure: Some of the links in this article may be affiliate links, which can provide compensation to me (at no extra cost to you) if you purchase a paid plan. You can read our affiliate disclosure in our privacy policy.
Subscribe to our email newsletter and unlock access to members-only content and exclusive updates.